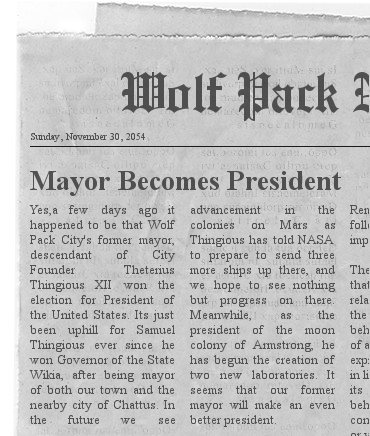 The date is December 2054, and the most populated city in the United States is the suburban paradise capitol of the fifty-sixth state, Wolf Pack City, Wikia, the host of one of the countries finest hotel's and also the newst and largest Disney Resorts, Disney's Full Moon Resort. Tourists come from miles around to enjoy the exotic nightlife and delicious food from resteraunts like Pervy Ol' Red's Burger Joint. This is also home to NASA's Carson Base, and thus they are good affiliates with the moon and mars colonies. It truly is the city of the future.
Ad blocker interference detected!
Wikia is a free-to-use site that makes money from advertising. We have a modified experience for viewers using ad blockers

Wikia is not accessible if you've made further modifications. Remove the custom ad blocker rule(s) and the page will load as expected.